Help
Contact Us
If you are having difficulty please complete our Help form here and we will get back to you.
Note: Phone support is not available.
Password Reset
Go to https://learning.t1d.org.au/login/forgot_password.php to reset your password
Best to submit your email address only or your username (not both).
Make sure your browser has not automatically filled in username.
If we can find you in the database, an email will be sent to your email address, with instructions how to get access again.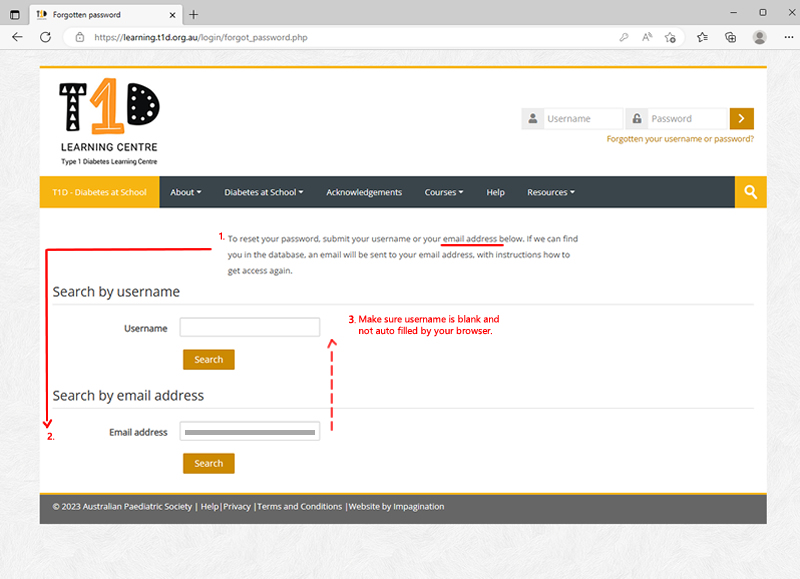 Creating an account
To create a new account go to https://learning.t1d.org.au/login/index.php
Fill out the information.

Example Username: suzanne98
No complex characters are needed.
Example Password: bluW?sZy901
Remember the password needs to have at least 8 characters, at least 1 digit(s), at least 1 lower case letter(s), at least 1 upper case letter(s), at least 1 non-alphanumeric character(s) [such as punctuation ?!;@] .
Plus other details as requested.

Then click Create my new account button.

The page should then close and show the what is happening next message. If the page does not close then you have not entered the information in the fields either uniquely or correctly. There should be a message near the field that needs to be changed.

School PD days
My school is planning a PD day and everyone will do the course at the same time. What issues may arise?
There are a number of points with regard to large school group access of the course that are important.

Registration uses a system email. A user has to get their email correct in the first place for the system generated email to have a chance of reaching them.
How the system email is perceived by your ISP, LAN Spam protection and computer Spam protection may also influence receipt. Legitimate system emails sometimes may be incorrectly treated as Spam.
The learning.t1d.org.au website is capable of handling multiple users into the hundreds in a day. However if multiple access occurs from a particular network position, local congestion may be a factor. If you have all staff trying to access over your school LAN at the same time this may be an issue. You should seek advice from your LAN administrator.
Experience from school staff trying to access for PD days shows the following:
register before the day so that if an account is not established there is some time to have it confirmed manually.

allowing/encouraging staff to complete the course throughout the day or over the week, rather than at the one time may reduce staff frustration if there are any issues.

allowing/encouraging staff to complete the course at alternate times of their choosing before the day.

Cookies
Two cookies are used by this site. The essential one is the session cookie, usually called MoodleSession. You must allow this cookie into your browser to provide continuity and maintain your login from page to page. When you log out or close the browser this cookie is destroyed (in your browser and on the server).
The other cookie is purely for convenience, usually called something like MOODLEID. It just remembers your username within the browser. This means when you return to this site the username field on the login page will be already filled out for you. It is safe to refuse this cookie - you will just have to retype your username every time you log in.
Enabling cookies on your Browser
Chrome
Click on the Chrome menu button on the browser bar.
Click "Settings"
Scroll down and click "Advanced".
In the Privacy and security section, click Content Settings.
Click Cookies.
Click the slider to "Allow sites to save and read cookie data (recommended)".
If you need further assistance checking your browser settings, go to "Help" on your web browser toolbar.
Internet Explorer
Click Tools or the gear icon at the top of the browser window.
Select Internet Options.
Click the Privacy tab and then the Advanced button on that tab.
Ensure that "Override automatic cookie handling" is checked.
Set the First and Third party cookies to "Accept".
Check "Always allow session cookies".
Click OK.
Exit Internet Explorer and restart your browser
Mozilla Firefox
Read the Firefox instructions
here
.
Select Tools then Options from the main menu.

Select Privacy from the top of the window.

In the History section, click the drop-down menu and select "Use custom settings for history."

Check "Accept cookies from sites".

Check "Accept third-party cookies".

Click OK.
Safari
Click the Wrench icon on the top right of the browser.
Select "Preferences."
Click on the Privacy tab.
In the Block Cookies section, select Never.
Last modified: Friday, 10 February 2023, 2:02 PM